December 16, 2021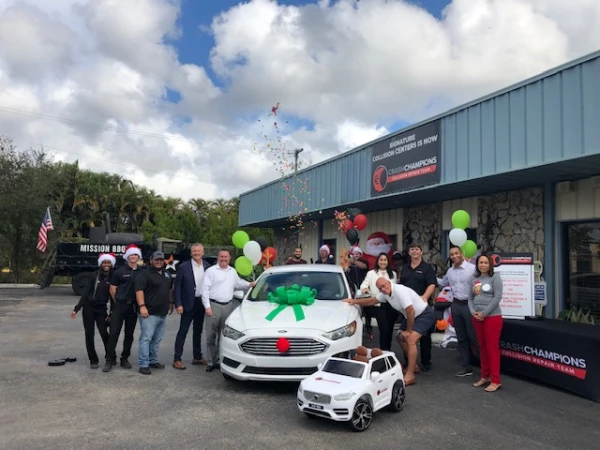 DAVIE, FL – December 16, 2021 – In an event yesterday (December 15) deemed the Holiday Rideaway, a deserving Broward County man experienced a life-changing moment when he was gifted a refurbished 2017 Ford Fusion as part of the National Auto Body Council Recycled Rides® program. The event was co-sponsored by Crash Champions collision repair, Geico insurance, and Enterprise Rent-A-Car.
The presentation occurred at the Crash Champions' Davie location (6951 SW 21st CT, Davie, FL 33404) and followed an earlier donation on November 30, in which a deserving father received a refurbished 2018 Honda Civic. The recipients, both veterans of the United States Marine Corps, were selected by Operation Sacred Trust.
NABC Recycled Rides® is a unique program in which businesses representing all facets of the collision repair industry team up to repair and donate vehicles to individuals and families in need of reliable transportation. Since the inception of the NABC Recycled Rides® program in 2007, members of the National Auto Body Council have donated more than 2,750 vehicles valued at more than $38 million.
"I could not be more excited to receive this generous gift," said Richard Tilghman, yesterday's Recycled Rides' recipient. "Having a safe and reliable vehicle is truly a blessing, and I cannot begin to tell you the difference this will make in my life. I am forever grateful to the sponsors involved in this wonderful program."
"Participating in the NABC Recycled Rides program is always a pleasure," said Matt Ebert, CEO and founder of Crash Champions. "The charitable organizations involved, like Operation Sacred Trust, find deserving individuals and families for whom a vehicle will make a life-changing difference. We applaud all the wonderful sponsors who joined us in supporting this tremendous effort, and we wish nothing but the best for the outstanding recipients."
ABOUT THE NATIONAL AUTO BODY COUNCIL®
The National Auto Body Council®, which celebrated its' 25th anniversary in 2020, is the premier organization of collision industry partners dedicated to strategic networking opportunities that positively change lives in the communities we serve. The collaborative membership of the National Auto Body Council® has gifted more than 2,750 vehicles, provided extrication opportunities for more than 4,800 First Responders and contributed to thousands of distracted driving pledges in communities through NABC Recycled Rides®, NABC First Responder Emergency Extrication (F.R.E.E.™) and the NABC® Drive Out Distraction program. That effort equates to a 4:1 ROI in dollar value delivered from NABC® membership dollars. The National Auto Body Council® is changing the paradigm of how the collision industry works and is viewed. For more information, visit www.NationalautoBodyCouncil.org.
About Crash Champions
Crash Champions is a leading independent collision repair company operating more than 150 state-of-the-art centers across 17 states – including: California, Colorado, Florida, Idaho, Illinois, Iowa, Kansas, Maryland, Missouri, Montana, Nebraska, New Jersey, North Carolina, Pennsylvania, Ohio, Washington, Wisconsin – and Washington, DC. Founded in 1999 as a single shop outside Chicago by industry veteran and entrepreneur Matt Ebert, today Crash Champions is a top national brand and one of the fastest growing collision repair companies in America. For more information about Crash Champions, visit www.crashchampions.com and watch our video here.
Back to All News