April 11, 2022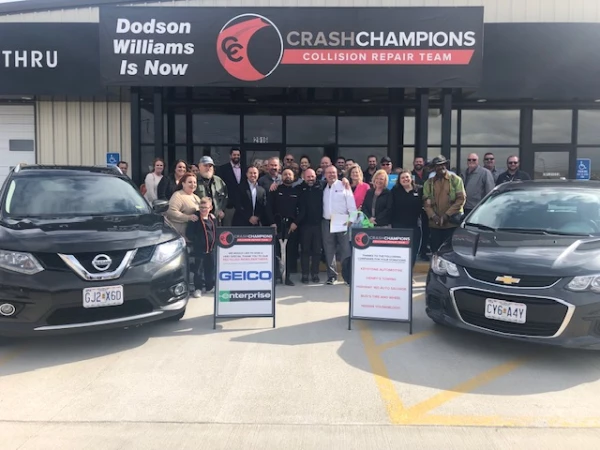 NABC Recycled Rides® Program Joins Crash Champions, Geico Insurance, and Enterprise Car Rental in Donating Two Refurbished Vehicles to Deserving Springfield (Missouri) Recipients

SPRINGFIELD, MO – April 11, 2022 – In a feel-good event last week, two deserving Springfield recipients experienced a life-changing moment when they were presented vehicles to provide them independence and the ability to work and take care of their families. The event was sponsored by the National Auto Body Council Recycled Rides® program along with Crash Champions collision repair, Geico insurance, and Enterprise car rental. Further supporting the initiative were the following businesses: Keystone Automotive, Henry's Towing, Highway 160 Auto Salvage, Bud's Tire and Wheel, and Youngblood Nissan.
The presentation was held last week at the Crash Champions' South Springfield location (2916 W Republic Rd, Springfield, MO 65807). The deserving recipients were selected by Springfield Dream Center and the Community Partnership of the Ozarks, and the event included the following donated vehicles that were refurbished by Crash Champions: a 2017 Chevy Sonic and a 2016 Nissan Rogue.
NABC Recycled Rides® is a unique program in which businesses representing all facets of the collision repair industry team up to repair and donate vehicles to individuals and families in need of reliable transportation. Since the inception of the NABC Recycled Rides® program in 2007, members of the National Auto Body Council have donated more than 2,750 vehicles valued at more than $38 million.
"My family and I could not be more grateful for this wonderful gift," said Kevin Cross, one of the Recycled Rides® recipients. "Having a reliable vehicle that we can count on for getting to work, running errands, and taking part in everyday family activities – especially with our children – is a truly life-changing opportunity and one that we will never take for granted. We are all incredibly thankful to the organizations and individuals who made this possible."
"Crash Champions is a national company, but every one of our shops is connected into their local community," said Matt Ebert, CEO and founder of Crash Champions. "The Recycled Rides program is a perfect example of how we can contribute in our own way to improve the lives of our neighbors. We are collision repair experts, and it's wonderful to use that expertise to help a family in need with something as important as safe and reliable transportation."
ABOUT THE NATIONAL AUTO BODY COUNCIL®
The National Auto Body Council®, which celebrated its' 25th anniversary in 2020, is the premier organization of collision industry partners dedicated to strategic networking opportunities that positively change lives in the communities we serve. The collaborative membership of the National Auto Body Council® has gifted more than 2,750 vehicles, provided extrication opportunities for more than 4,800 First Responders and contributed to thousands of distracted driving pledges in communities through NABC Recycled Rides®, NABC First Responder Emergency Extrication (F.R.E.E.™) and the NABC® Drive Out Distraction program. That effort equates to a 4:1 ROI in dollar value delivered from NABC® membership dollars. The National Auto Body Council® is changing the paradigm of how the collision industry works and is viewed. For more information, visit www.NationalautoBodyCouncil.org.
About Crash Champions
Crash Champions is a leading independent collision repair company operating more than 190 state-of-the-art centers across 20 states – including: California, Colorado, Florida, Idaho, Illinois, Iowa, Kansas, Maryland, Missouri, Montana, Nebraska, New Hampshire, New Jersey, New Mexico, North Carolina, Pennsylvania, Ohio, Oregon, Washington, Wisconsin – and Washington, DC. Founded in 1999 as a single shop outside Chicago by industry veteran and entrepreneur Matt Ebert, today Crash Champions is a top national brand and one of the fastest growing collision repair companies in America. For more information, visit www.crashchampions.com.
Back to All News