May 8, 2023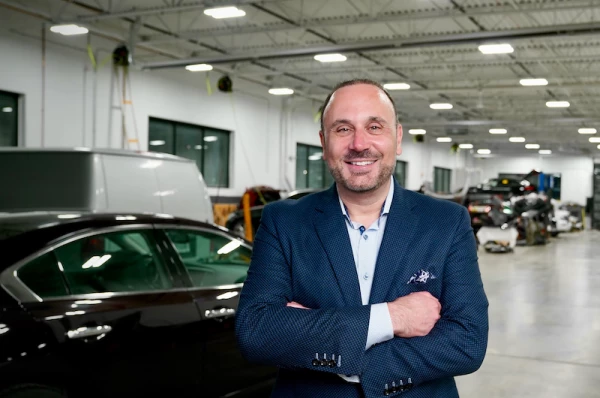 Crash Champions, one of the nation's fastest-growing providers of high-quality collision repair service, today proudly announced that founder and CEO, Matt Ebert, has been named a finalist for 2023 Ernst & Young (EY) Entrepreneur Of The Year® Midwest Award.
Now in its 37th year, the EY Entrepreneur Of The Year® Award is one of the most competitive and esteemed recognitions, celebrating transformative leaders of high-growth companies building a better world. Ebert was selected alongside 35 Midwest finalists representing the region's preeminent, high-growth businesses.
As a finalist, Ebert, who was also recently named the Bodyshop Business MSO Executive of the Year in 2022, will be recognized by EY at a special event on June 21 where regional award winners will be announced.
"This year's finalists are ambitious entrepreneurs set on transforming their industries and communities," said Ram Ramanan, EY Entrepreneur Of The Year® Regional Program Director. "They have been carefully selected by our independent panel of judges for their unwavering commitment to their companies, customers and communities, and we are thrilled to recognize them."
As founder and CEO of Crash Champions, Ebert has guided the organization from a single Chicago-based collision repair center, into one of the fastest-growing and most exciting brands in the industry. Today, Crash Champions serves customers and business partners at more than 600 high-quality repair centers in 36 states and Washington DC.
"It's humbling and a true honor to be recognized as a finalist for such a storied award alongside some of the very best entrepreneurs in the country," said Ebert. "As an entrepreneur, everything is rooted in developing and carrying out a clear and inspiring vision. The vision at Crash Champions has always been to build a company with great people at its core. This recognition is a reflection of our passionate team and the distinct culture that has been established at Crash Champions. I'm grateful for the opportunity to represent Crash Champions as part of this program and as a finalist for the 2023 Entrepreneur Of The Year® Midwest award."
Crash Champions, under Ebert's leadership, has also achieved Level One Partner status with the National Auto Body Council® and regularly contributes to community engagement and philanthropy events across the nation – including more than 50 NABC Recycled Rides® giveaways in 2022 alone.
After winners of the Midwest Region award are unveiled at the June 21 event, they will be considered by a panel of national judges for the Entrepreneur Of The Year® National Awards, presented in November. at the annual Strategic Growth Forum®.
For more information about Crash Champions, visit crashchampions.com and watch the company's story here.
###
About Crash Champions
Crash Champions is the largest founder-led multi-shop operator (MSO) of high-quality collision repair service in the U.S., serving customers and business partners at more than 600 state-of-the-art repair centers in 36 states. The company was founded in 1999 as a single Chicago repair center by industry veteran and 2022 MSO Executive of the Year, Matt Ebert. For more information, and to locate a local repair center, visit www.crashchampions.com.
About Entrepreneur of the Year®
Entrepreneur Of The Year® is the world's most prestigious business awards program for unstoppable entrepreneurs. These visionary leaders deliver innovation, growth and prosperity that transform our world. The program engages entrepreneurs with insights and experiences that foster growth. It connects them with their peers to strengthen entrepreneurship around the world. Entrepreneur Of The Year is the first and only truly global awards program of its kind. It celebrates entrepreneurs through regional and national awards programs in more than 145 cities in over 60 countries. National Overall Award winners go on to compete for the EY World Entrepreneur Of The Year™ title. Visit ey.com/us/eoy.
Back to All News