April 27, 2023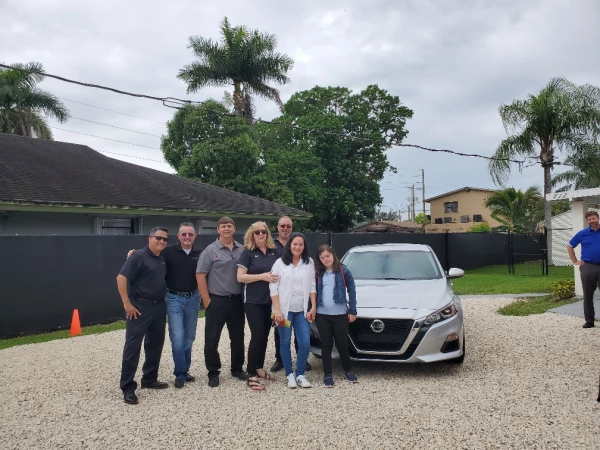 In a celebratory giveaway event that took place Tuesday (April 25), the Crash Champions Collision Repair Team proudly partnered with the National Auto Body Council® (NABC®), GEICO, and local partners to change the life of a deserving local single mother and her family.
Reina Medina, who was nominated by The Arc of South Florida, is now the proud owner of a restored vehicle donated as part of the NABC® Recycled Rides program.
"My entire family is incredibly grateful for this wonderful donation," said Ms. Medina. "The vehicle gifted to us today will allow us greater work opportunities, more family time, and the chance to do many of the activities that so many take for granted, from running errands to visiting doctors. To all the wonderful people at NABC®, Crash Champions, GEICO and 1-800 CHARITY CARS, thank you."
Medina is a single mother of two who is also the primary caregiver to her elderly mother. She is also a primary caregiver to her elderly mother. Before Tuesday's giveaway, she did not have a reliable means of personal transportation.
After hearing her story, local collision repair technicians from Crash Champions stepped into action, volunteering their time and skill to restore a donated 2019 Nissan Altima. The vehicle was donated by GEICO and restored to like-new condition in time for the giveaway.
"Our team is always proud to step in and take part in Recycled Rides giveaway events," said Matt Ebert, founder and CEO of Crash Champions. "We know the difference that reliable personal transportation can make, especially for single mothers in need. We're grateful to play a small role in making a positive impact in the life of Ms. Medina and her deserving family."
Crash Champions has taken part in five NABC Recycled Rides® giveaways this year and is a Level One partner with the organization. NABC Recycled Rides® is a transformative program that unites several areas of the automotive collision repair industry in pursuit of restoring and donating vehicles to individuals and families in need of reliable transportation. Since the inception of the NABC Recycled Rides® program in 2007, members of the National Auto Body Council® have donated more than 3,000 vehicles valued at $42 million.
Crash Champions is a leading provider of high-quality collision repair service, serving customers at more than 600 repair centers across 36 states.
Back to All News