May 15, 2023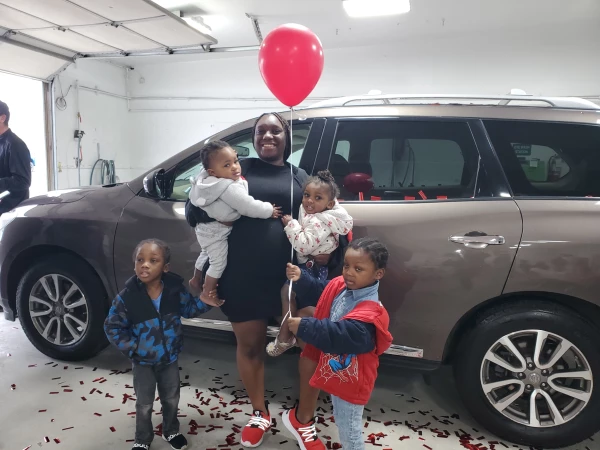 The Crash Champions Collision Repair Team, together with Family Promise of Greater Denver, Allstate and local partners, transformed the lives of a deserving Fort Collins family last week by handing over keys to a fully restored vehicle.
The celebratory NABC Recycled Rides® Giveaway took place on May 10 at Crash Champions' Fort Collins repair center, where Ms. Jetta Graham and her family of six drove home with the fully restored Nissan Pathfinder.
"I could not be more excited to receive this generous gift," said Jetta Graham, a mother of four. "Having a safe and reliable vehicle is truly a blessing, and I cannot begin to tell you the difference it will make in our lives. I am forever grateful to the NABC®, Crash Champions, Allstate and all the sponsors involved in this wonderful program."
Certified collision repair technicians from Crash Champions' Fort Collins repair center volunteered their time and expertise to restore and donate the vehicle in time for the giveaway.
As a participant in the Family Promise of Greater Denver program, Ms. Graham and her family are in the process of overcoming homelessness. The vehicle now provides her family with the freedom to transport their four kids to school and doctors' appointments.
"At Crash Champions, we believe in putting people first, always," said Matt Ebert, founder and CEO of Crash Champions. "The NABC Recycled Rides® program is just one way that our team lives out that principle. It's our sincere hope that this vehicle makes a positive impact in the lives of Ms. Graham and her deserving family."
Crash Champions has taken part in 10 NABC Recycled Rides® giveaways this year and is a Level One partner with the organization. NABC Recycled Rides® is a transformative program that unites several areas of the automotive collision repair industry in pursuit of restoring and donating vehicles to individuals and families in need of reliable transportation. Since the inception of the NABC Recycled Rides® program in 2007, members of the National Auto Body Council® have donated more than 3,000 vehicles valued at $42 million.
Crash Champions is a leading provider of high-quality collision repair service, serving customers and business partners at more than 600 repair centers across 36 states.
Back to All News