March 21, 2023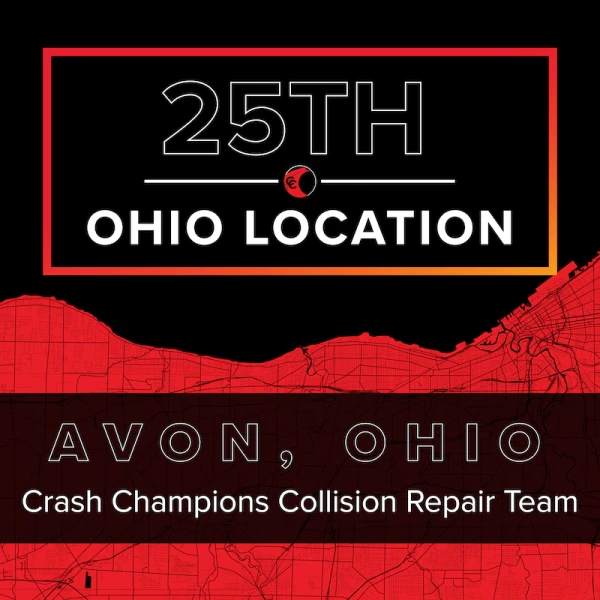 The Crash Champions Collision Repair Team, one of the nation's fastest-growing providers of high-quality collision repair service, today announced another step in the organization's ongoing strategic national growth plan by opening its 25th Ohio location. The collision repair center, located at 38401 Chester Road in Avon, Ohio, officially opened on March 20th.
"We're thrilled to continue expanding the Crash Champions team across Ohio," said Matt Ebert, founder and CEO of Crash Champions. "Since first expanding to the area in 2020, Crash Champions has made it our mission to deliver high-quality collision repair service while also engaging with local communities. The opening of our Avon repair center is part of this important effort. We look forward to investing in this team and providing our services to local customers and business partners."
Crash Champions is one of the fastest-growing collision repair companies in the U.S. Skilled technicians and collision repair professionals interested in joining the organization are encouraged to visit collisionrepair.careers to discover openings across the company.
Today, Crash Champions operates a leading lineup of more than 600 high-quality collision repair centers in 36 states and the District of Columbia. All repairs performed by Crash Champions are backed by a written lifetime warranty honored at locations nationwide.
For more information about the company or to schedule a repair, visit www.crashchampions.com and watch Crash Champions' story here. Collision repair operators interested in joining the Crash Champions team by selling their business are encouraged to visit www.crashchampions.com/sell-your-shop to learn more about the process and opportunities.
###
About Crash Champions
Crash Champions is the largest founder-led multi-shop operator (MSO) of high-quality collision repair service in the U.S., serving customers and business partners at more than 600 state-of-the-art repair centers in 36 states across the U.S. The company was founded in 1999 as a single Chicago repair center by industry veteran and 2022 MSO Executive of the Year, Matt Ebert. For more information, and to locate a local repair center, visit www.crashchampions.com.
Back to All News