March 20, 2023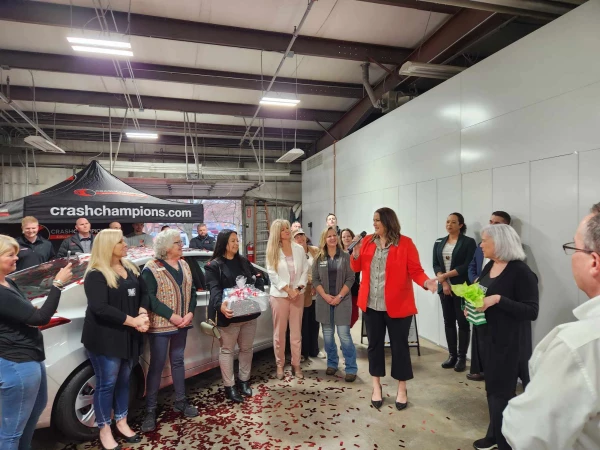 The Crash Champions Collision Repair Team joined hands with the National Auto Body Council® (NABC®), GEICO, and local non-profit organizations on Thursday (March 16) to restore and donate a Hyundai Elantra to a local single mother in need. The ceremonial giveaway was part of the NABC Recycled Rides® program and followed certified collision repair technicians from Crash Champions volunteering their time and expertise to restore the vehicle to like-new condition.
The recipient, who asked to remain anonymous, was nominated by Women in Need of the Ozarks, which provides support for local single women facing short-term crises.
"We're grateful for the incredible generosity of the entire Crash Champions team to pull off this special giveaway," said Women in Need of the Ozarks President, Paige Payne. "The hard work of their technicians and team members will make an indelible impact on the life of our recipient, and her family. This vehicle is a true catalyst that will provide the freedom of a personal reliable vehicle for her and her family."
NABC Recycled Rides® is a transformative program that unites several areas of the automotive collision repair industry in pursuit of restoring and donating vehicles to individuals and families in need of reliable transportation. Since the inception of the NABC Recycled Rides® program in 2007, members of the National Auto Body Council® have donated nearly 3,000 vehicles valued at $42 million.
Crash Champions, a Level One Partner with the NABC®, is a regular participant in the NABC Recycled Rides® program. In 2022, the organization took part in more than 50 similar giveaways across the country.
"At Crash Champions, one of our core commitments is that we put People First, Always," said Matt Ebert, founder and CEO of Crash Champions. "Our team members take great pride in participating in the NABC Recycled Rides® program because they see the very real impact that it makes in the lives of people who need it most. It's our hope that this vehicle makes a positive impact in the life of today's recipient."
Crash Champions is a leading provider of high-quality collision repair service, serving customers at more than 600 repair centers across 36 states.
About Crash Champions
Crash Champions is the largest founder-led multi-shop operator (MSO) of high-quality collision repair service in the U.S., serving customers and business partners at more than 600 state-of-the-art repair centers in 36 states across the U.S. The company was founded in 1999 as a single Chicago repair center by industry veteran and 2022 MSO Executive of the Year, Matt Ebert. For more information, and to locate a local repair center, visit www.crashchampions.com.
ABOUT THE NATIONAL AUTO BODY COUNCIL®
The National Auto Body Council® is the premier organization of collision industry partners dedicated to strategic networking opportunities that positively change lives in the communities we serve. The collaborative membership of the National Auto Body Council® has gifted more than 3,000 vehicles, provided extrication opportunities for some 5,000 First Responders and is helping educate students and adult drivers in communities around the country through NABC Recycled Rides®, NABC First Responder Emergency Extrication (F.R.E.E.™) and the NABC® Drive Out Distraction program. That effort equates to a 4:1 ROI in dollar value delivered from NABC® membership dollars. The National Auto Body Council® is changing the paradigm of how the collision industry works and is viewed. For more information, visit www.NationalautoBodyCouncil.org.
Back to All News