March 28, 2023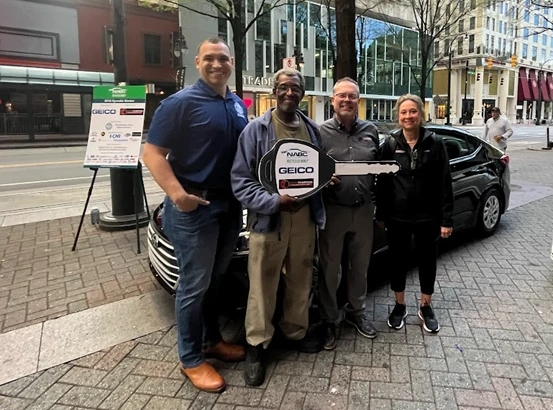 In a celebratory giveaway event that took place Sunday (March 26), the Crash Champions Collision Repair Team partnered with the National Auto Body Council® (NABC®), GEICO, and local partners to donate a vehicle to a local Army veteran.
The giveaway, to veteran Cyril Smith, took place at the Charlotte Marriott City Center following his nomination by the Mecklenburg County Veteran Service Office.
"It's always a particularly special moment for our team to step up and lend a small token of our great appreciation for those who have sacrificed so much for our country," said Crash Champions founder and CEO Matt Ebert. "Our long-standing participation in the NABC Recycled Rides® program remains an incredible opportunity for our team to work together for a great cause. We're grateful for the privilege of playing a small part in Sunday's giveaway."
Smith is an honorably discharged veteran of the U.S. Army and father of three. The vehicle, which was fully restored through volunteer efforts of the Crash Champions team of certified technicians, will provide Smith with a reliable form of transportation for his family.
"I can't begin to tell you the difference having a safe and reliable vehicle will have on our lives," said Smith. "For this, we are forever grateful to the NABC®, Crash Champions, GEICO, and all the other sponsors that made today possible."
Crash Champions has taken part in four NABC Recycled Rides® giveaways this year and is a Level One partner with the organization. NABC Recycled Rides® is a transformative program that unites several areas of the automotive collision repair industry in pursuit of restoring and donating vehicles to individuals and families in need of reliable transportation. Since the inception of the NABC Recycled Rides® program in 2007, members of the National Auto Body Council® have donated more than 3,000 vehicles valued at $42 million.
Crash Champions is a leading provider of high-quality collision repair service, serving customers at more than 600 repair centers across 36 states.
About Crash Champions
Crash Champions is the largest founder-led multi-shop operator (MSO) of high-quality collision repair service in the U.S., serving customers and business partners at more than 600 state-of-the-art repair centers in 36 states. The company was founded in 1999 as a single Chicago repair center by industry veteran and 2022 MSO Executive of the Year, Matt Ebert. For more information, and to locate a local repair center, visit www.crashchampions.com.
ABOUT THE NATIONAL AUTO BODY COUNCIL®
The National Auto Body Council® is the premier organization of collision industry partners dedicated to strategic networking opportunities that positively change lives in the communities we serve. The collaborative membership of the National Auto Body Council® has gifted more than 3,000 vehicles, provided extrication opportunities for some 5,000 First Responders and is helping educate students and adult drivers in communities around the country through NABC Recycled Rides®, NABC First Responder Emergency Extrication (F.R.E.E.™) and the NABC® Drive Out Distraction program. That effort equates to a 4:1 ROI in dollar value delivered from NABC® membership dollars. The National Auto Body Council® is changing the paradigm of how the collision industry works and is viewed. For more information, visit www.NationalautoBodyCouncil.org
Back to All News