February 1, 2023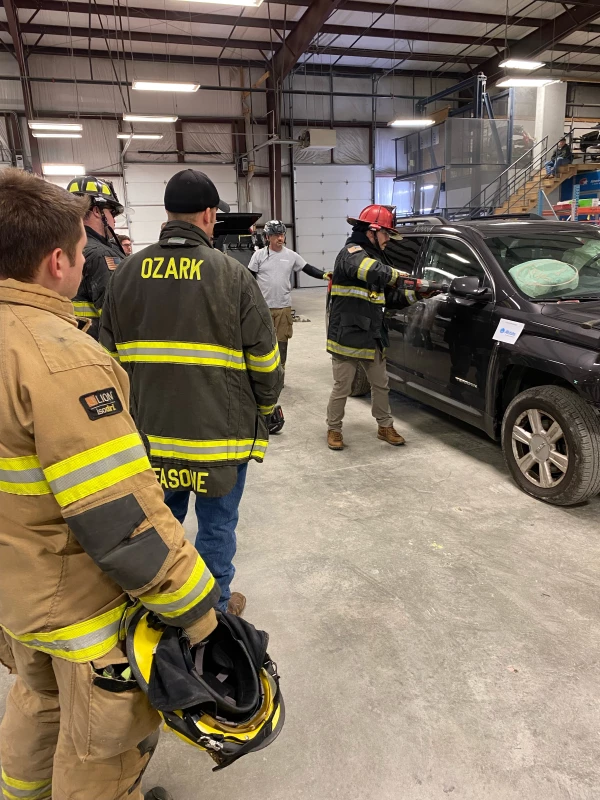 February 1, 2023 — Crash Champions, one of the nation's fastest-growing independent collision repair companies, hosted more than 25 local first responders at its Branson repair center this month as part of the National Auto Body Council's (NABC®) First Responder Emergency Extrication (F.R.E.E.™) event on January 21.
Emergency first responders from seven different agencies took part in the training, which provides the latest in life-saving extrication techniques using donated vehicles and state-of-the-art equipment.
"We are always proud to join hands with the NABC and participate in the good work they do in our communities," said Matt Ebert, founder and CEO of Crash Champions. "In this case, it's an honor to host local first responders at our Branson repair center, alongside our friends and partners at Allstate and Genesis Rescue Systems. The Crash Champions team is grateful for the life-saving sacrifices that these brave men and women make day-in and-day out, protecting and rescuing those in need. We hope that this event serves as a valuable tool and a token of our appreciation for their bravery and sacrifice."
Crash Champions is a Level One partner with the NABC® -- supporting several of its safety and charity programs across the country.
The NABC F.R.E.E.™ event provides first responders with an opportunity to practice and train on the state-of-the-art technology featured in late-model vehicles, as well as extrication techniques on high-strength steel frame vehicles. These training exercises help first responders become familiar with how to swiftly and safely rescue motorists in life-threatening situations during roadside emergencies.
"This is a vital resource for first responders across our local communities," said Engineer Matt Eaves, Branson Fire/Rescue. "We're grateful for the opportunity to take part in the NABC F.R.E.E. events as they provide unmatched hands-on exercises that provide our teams with real-world experience and training in late model vehicles. This event is making a difference in future rescues that will take place on roadways across our region."
For more information about Crash Champions, visit www.crashchampions.com and watch our video here.
###
About Crash Champions
Crash Champions is the largest founder led multi-shop operator (MSO) of high-quality collision repair service in the U.S., serving customers and business partners at more than 600 state-of-the-art repair centers in 36 states across the U.S. The company was founded in 1999 as a single Chicago repair center by industry veteran and 2022 MSO Executive of the Year, Matt Ebert. For more information, and to locate a local repair center, visit www.crashchampions.com.
Back to All News