December 17, 2021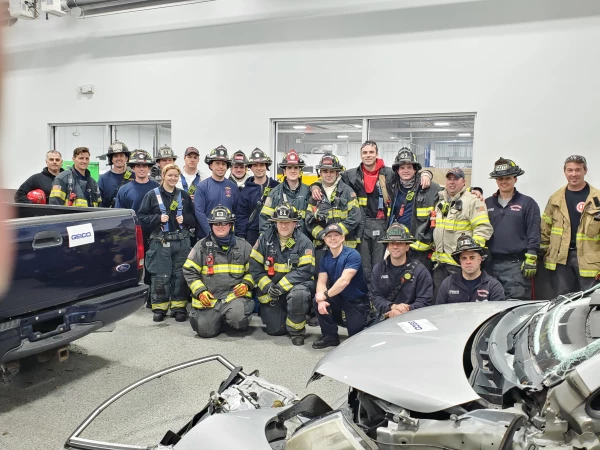 Chicago, IL – December 15, 2021 – Crash Champions, LLC ("Crash Champions" or the "Company"), one of the nation's fastest growing independent collision repair companies, hosted a National Auto Body Council® (NABC) First Responder Emergency Extrication (F.R.E.E.™) event for Chicago-area Fire Departments including New Lenox, Frankfort, and Mokena this past Tuesday, December 14, 2021. The event, which included more than 25 firefighters, provided hands-on training of new model vehicle cutting techniques, addressing high-strength steel and composite materials, multiple airbags, onboard technology and changing vehicle design. The vehicles for the program were donated by Geico Insurance® and Genesis Rescue provided the classroom education and extrication demonstration.
"This is a vital program that should be replicated in every community across the country," said Matt Ebert, founder and CEO of Crash Champions. "The NABC and its partner organizations have done a tremendous job in ensuring First Responders – the people we rely on most when an accident occurs – are properly trained to handle the incredible complexity of safely extricating individuals from today's modern vehicles. The Crash Champions family is proud to continue its long-standing support for this outstanding initiative."
"It is imperative that our first responders are prepared to handle the growing complexities of safely extricating people from today's more technologically advanced vehicles," said Lieutenant Nick Peters of the Frankfort Fire Protection District. "To this end, we're seeing more and more next-generation cars on the road, and there's no question that today's training served as a critical – and practical – exercise that will help our men and women on the front lines save lives. We are incredibly grateful to the NABC, Crash Champions, Geico Insurance, and Genesis Rescue for their commitment to this valuable program."
For more information about Crash Champions, visit www.crashchampions.com and watch our video here.
Back to All News