March 19, 2021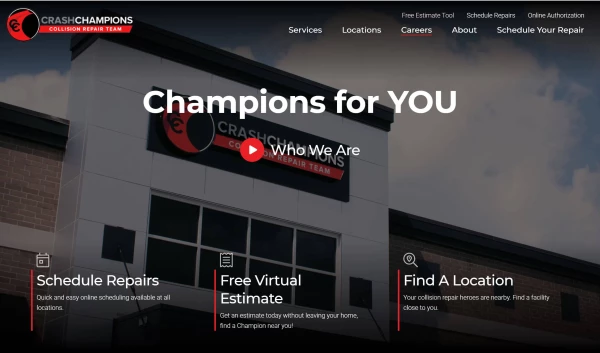 Chicago, IL- March 19, 2021- Today, Crash Champions is proud to debut their newly remodeled website to make it even easier for consumers to learn about the team and schedule their next visit! The organization wanted their new online home to match their state-of-the-art shops – with a sleek and easy-to-navigate design, and their company values front and center. The new site offers tons of user-friendly tools to answer your questions and get you back on the road as soon as possible.
As part of this redesign, Crash Champions has implemented an easy online scheduling tool that includes free virtual estimates for all of locations, so you don't have to leave the house or stress about hidden fees before making an appointment. The "Find A Location" feature also takes the effort out of finding the location closest to you. With locations all over the Midwest, Chicago and Southern California, Crash Champions is just a short drive away, guaranteed!
"At Crash Champions, we take great pride in restoring your vehicle back to its pre-accident condition, and we're honored to show off our work on our new website through our collision repair gallery. We promise our customers the safest and highest quality repair in the industry, every time, and we back up that promise with a written lifetime warranty. You can read more about our warranty and resulting 5-Star customer reviews on the new site," said Natalie Zajc, vice president of marketing.
Crash Champions is also excited to announce that, following their most successful year yet, they are hiring right now! Check out the "Careers" tab in the banner, where you can learn more about life at Crash Champions, discover the great pay and benefits, and easily apply to current openings. "We strive to provide our team with only the best tools and training in the industry so that each employee can reach their full potential" said Matt Ebert, CEO. If you value teamwork, customer service, and being the best you can be, there's an opening for you!
At Crash Champions, we do everything we can to make your auto repairs as painless and easy as possible, and this is just another way that we're being a champion for you. We hope you love the new crashchampions.com!
Back to All News