June 22, 2023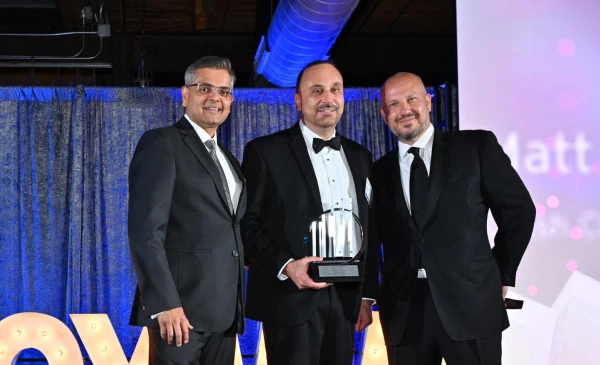 Crash Champions, one of the nation's fastest-growing providers of high-quality collision repair services in the country, is proud to announce that founder and CEO Matt Ebert has been named by Ernst & Young, LLP (EY US) as a winner of the Entrepreneur Of The Year® Midwest Award. The announcement was made during a special ceremony hosted on June 21, in Chicago.
Entrepreneur Of The Year® is one of the preeminent and most competitive business awards for entrepreneurs and leaders of high-growth companies across the world. Ebert was named one of 35 finalists in May, and as a winner of the Midwest region, now moves on to compete and be recognized at the Entrepreneur of the Year® National Awards ceremony in November at the annual Strategic Growth Forum.
"It's an honor to be recognized alongside some of the most accomplished business leaders from the Midwest," Ebert said. "This award is indeed a true reflection of the Crash Champions team. Entrepreneurship is about surrounding yourself with great people who are committed to a singular vision. Throughout this journey, Crash Champions has assembled some of the very best people in the industry, all committed to making a difference in the lives of our customers. I'd like to thank the judges, sponsors and the entire Entrepreneur Of The Year platform for supporting and showcasing the spirit of entrepreneurs across the country."
As a visionary entrepreneur and leader, Ebert has grown Crash Champions from a single New Lenox, IL., auto body shop into the third-largest collision repair organization in the U.S., serving customers at more than 600 repair centers in 36 states.
"Every year, we are completely blown away by the accomplishments of our Entrepreneur Of The Year Regional Award winners, and 2023 is no different," said AJ Jordan, EY Americas Entrepreneur Of The Year Program Director. "They are change-makers and champions of business and community, and we are so proud to be honoring them. We can't wait to see how these leaders will continue to improve lives and disrupt industries."
Entrepreneur Of The Year Midwest finalists were evaluated by an independent panel of judges on their demonstration of building long-term value through entrepreneurial spirit, purpose, growth and impact, among other core contributions and attributes. A total of 12 winners were selected to advance to the national ceremony.
Since 1986, the Entrepreneur Of The Year program has recognized more than 11,000 US executives. Ebert's selection as a Midwest winner comes after also being named the 2022 MSO Executive of the Year.
Back to All News