April 24, 2021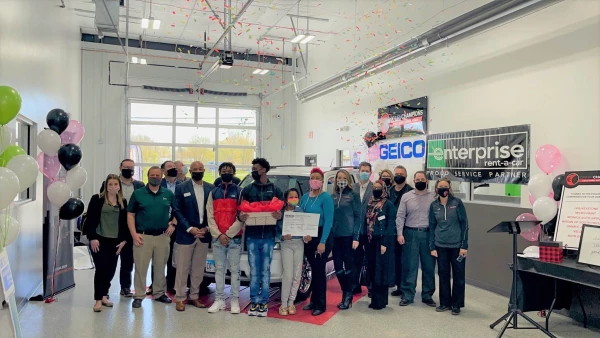 Chicago, IL, April 23, 2021 – Crash Champions, LLC ("Crash Champions" or the "Company"), one of the nation's largest independent collision repair companies, announced today that the Company has again joined forces with Geico Insurance and the National Auto Body Council's ("NABC") Recycled Rides® program, to provide a high-quality refurbished vehicle to a deserving family in need to support their independence, ability to work and take care of their family. Crash Champions hosted an event on April 22nd at its New Lenox, IL location to present Will County, Illinois resident Jacquetta Love with a 2012 Jeep Liberty. This beautifully refurbished SUV, which was provided by Geico Insurance and the Community Service Council, is the third vehicle Crash Champions has donated through its partnership with NABC's Recycled Rides®. Sponsors of the event included Geico Insurance, Enterprise, LKQ/Keystone, Micro Paint, Resnick Auto Group, Nissan of South Holland, Omar's Auto Glass, Veldmans, Auto Glass Plus, DeRe Tire & Auto, Bolingbrook Chamber of Commerce, Giamanco Law Partners, The Promenade Bolingbrook, McBroom's Cleaning Service, and Vic's Car Wash.
"I'm proud to continue our partnership with this fantastic initiative and to provide another vehicle to a family in need," said Matt Ebert, founder and CEO of Crash Champions. "Our mission at Crash Champions extends far beyond the body shop. We aim not only to be the premier collision repair provider in the country, but a stellar corporate and community citizen. Jacquetta Love is a single mother of three who manages health problems on top of her household. With this refurbished SUV, Jacquetta will no longer need to rely on expensive ride-hailing applications for her employment, as well as her many responsibilities at home. This donation is another great example of how the NABC Recycled Rides® program creates a meaningful impact at a hyper local level, and we look forward to continuing to support this initiative for years to come."
NABC Recycled Rides® is a unique program in which businesses representing all facets of the collision repair industry team up to repair and donate vehicles to individuals and families in need of reliable transportation. Since the inception of the NABC Recycled Rides® program in 2007, members of the NABC have donated more than 2,500 vehicles valued at more than $36 million. For more information about NABC Recycled Rides®, visit www.NationalautoBodyCouncil.org.
Crash Champions is one of the largest independent collision repair companies in America with more than 900 team members serving locations across the greater-Chicago area; Wisconsin; Davenport, IA; Kansas; Missouri; Ohio; and Southern California. For more information, visit www.crashchampions.com and watch our video here.
Back to All News