January 13, 2021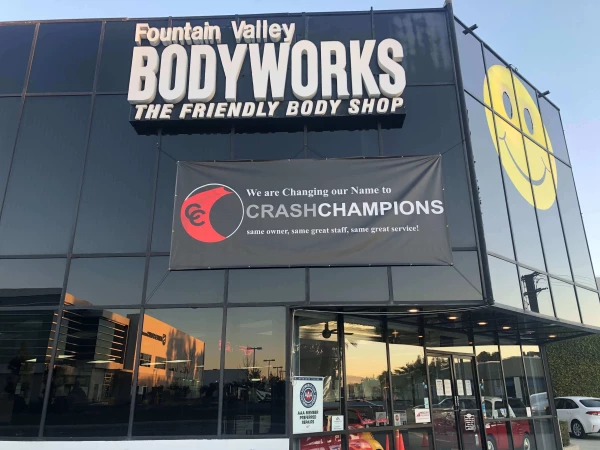 Fountain Valley, CA – January 13, 2021 – Crash Champions, LLC ("Crash Champions" or "Crash" or the "Company"), one of the nation's largest independent collision repair MSOs with a leading presence in the greater-Midwest and Southern California markets, announced today its successful rebrand of Fountain Valley Bodyworks ("Fountain Valley"). Formerly the largest family owned MSO in Orange County with two of the highest-performing collision repair shops in the industry, Fountain Valley was acquired by Crash Champions in October of last year. Following the rebranding of Fountain Valley, all of the Company's Southern California locations will be under the Crash Champions banner. The Company completed the successful rebrand of Pacific Elite and its 23 locations last month.
"When we first opened our doors in 1974, our goal was to bring a better collision repair and customer service experience to Orange County," said Dave March, Crash Champions shareholder and the former founder and CEO of Fountain Valley. "After 45-plus years of doing things the right way, we became the most trusted player in the market and found a partner in Crash Champions who could help us build on that legacy for years to come. The Crash Champions name and brand are nationally recognized not only for being leaders in collision repair, but also strong corporate and community citizens. Our aligned values and vision are what attracted us to Crash Champions, and our decision to unify under one banner reflects that."
As part of the rebrand, all Fountain Valley branding and color schemes have been transitioned to Crash Champions. This includes employee uniforms, building signage, and all marketing and administrative materials. The iconic "smiley" face will remain on the building at 17481 Newhope Street. Additionally, as of February 1st, the Fountain Valley website (www.fvbodyworks.com) will begin auto-forwarding to the Crash Champions website (www.crashchampions.com).
"Bringing Fountain Valley under the Crash Champions brand is the final step in cementing our position as the leading collision repair provider in Southern California," said Matt Ebert, founder and CEO of Crash Champions. "With each prospective acquisition, we look at numerous factors beyond just performance, including existing brand value and market recognition. Deciding whether or not to rebrand these high-performing shops is always a difficult decision, but we know the unique value and power that comes with the Crash name and brand. Moving forward with this rebrand will be an incredible value-add to our new partners, and we look forward to growing their legacy on the West Coast."
Crash Champions is the fifth largest independent collision repair MSO in America with 60 locations employing more than 900 team members across six states, including 18 locations in the greater-Chicago area; nine locations in Missouri; seven locations in Ohio; two locations in Milwaukee, WI; one location in Davenport, IA; and 25 locations in Southern California.
To learn more about Crash Champions, visit www.crashchampions.com and watch our video here.
Back to All News