October 13, 2022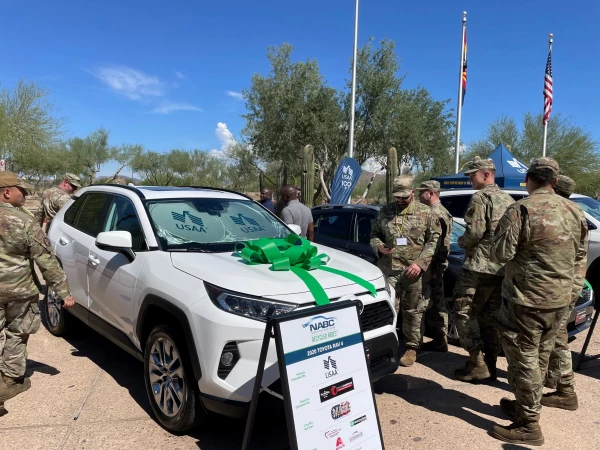 Crash Champions and Service King Collision Sponsor NABC Recycled Rides® Program alongside USAA and Charity Cars for Deserving Arizona Military Families
PHOENIX, AZ – October 11, 2022 – In a presentation that took place last week (October 6), 10 deserving Arizona military families experienced a life-changing moment when they were gifted refurbished vehicles through the National Auto Body Council Recycled Rides® program. The ceremony, which took place at the USAA Financial Center in Phoenix, continued USAA's "100 Cars for 100 Years" centennial celebration.
Service King Collision, now part of the Crash Champions Collision Repair Team, one of the fastest-growing independent collision repair service providers in the country, co-sponsored the event alongside Charity Cars.
As part of the Recycled Rides program, certified technicians from the Crash Champions and Service King Collision locations volunteered time and expertise to fully refurbish three of the donated vehicles for active-duty military families. The local families were selected by Phoenix-area non-profit organizations.
"I want to thank all the parties involved for this incredible gift that does so much for my family and our sense of independence," said one recipient, a U.S. Air Force servicemember. "Having a form of reliable, dependable transportation removes many of the difficulties we face on an everyday basis, and this gift will play a major role in improving our lives for years to come."
The three vehicles restored by Service King and Crash Champions technicians included the following models:
2017 Jeep Cherokee Latitude
2018 Subaru Impreza
2020 Toyota Rav 4
NABC Recycled Rides® is a unique program in which businesses representing all facets of the automotive collision repair industry team up to repair and donate vehicles to individuals and families in need of reliable transportation. Since the inception of the NABC Recycled Rides® program in 2007, members of the National Auto Body Council have donated nearly 3,000 vehicles valued at $42 million.
Since 2018, Crash Champions has restored and donated more than 30 vehicles to deserving families as part of the NABC Recycled Rides Program.
"Much like Crash Champions, USAA is a mission driven organization that prioritizes investing in the communities that it serves," said Matt Ebert, CEO and founder of Crash Champions. "It is an honor to be able to participate in the centennial celebrations through our role in the Recycled Rides program. Many of Crash Champions' talented technicians and teammates served across different branches of the military, which makes it even more special when we can help restore a level of independence for the selfless members of the armed forces through a refurbished vehicle donation."
###
ABOUT THE NATIONAL AUTO BODY COUNCIL®
The National Auto Body Council® is the premier organization of collision industry partners dedicated to strategic networking opportunities that positively change lives in the communities we serve. The collaborative membership of the National Auto Body Council® has gifted nearly 3,000 vehicles, provided extrication opportunities for nearly 5,000 First Responders and is helping educate students and adult drivers in communities around the country through NABC Recycled Rides®, NABC First Responder Emergency Extrication (F.R.E.E.™) and the NABC® Drive Out Distraction program. That effort equates to a 4:1 ROI in dollar value delivered from NABC® membership dollars. The National Auto Body Council® is changing the paradigm of how the collision industry works and is viewed. For more information, visit www.NationalautoBodyCouncil.org.
About Crash Champions
Crash Champions is a leading independent collision repair company operating ~570 state-of-the-art centers across 35 states and Washington, D.C. Founded in 1999 as a single shop outside Chicago by industry veteran and entrepreneur Matt Ebert, today Crash Champions is one of the fastest-growing and largest founder-led and operated collision repair MSOs in America. For more information, visit www.crashchampions.com.
Back to All News