October 19, 2022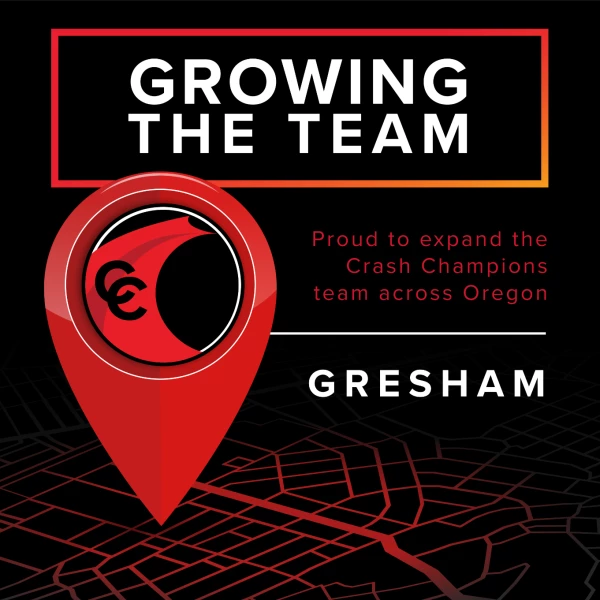 Crash Champions Adds Third Collision Repair Center in Portland Metro Area
Chicago, IL, October 19, 2022 – Crash Champions, LLC ("Crash Champions" or the "Company"), one of the nation's fastest-growing independent collision repair service providers with a growing network across 35 states, today announced it has expanded service in the Portland (OR) metro area. The announcement comes as Crash Champions officially closed on a deal to acquire a location at 935 Southeast 202nd Avenue in Gresham. Crash Champions, which opened its first Portland location earlier this year, now serves area customers and business partners at three premier repair centers across the market.
"This team of highly trained technicians has the expertise and equipment that align with the Crash Champions vision and strategic growth plan," said Matt Ebert, founder and CEO of Crash Champions. "This high-quality facility will continue to provide customers with industry-leading repair work in a service-focused environment, while offering its team members a rewarding corporate culture and meaningful professional development opportunities. I am pleased to welcome them to our growing team."
The Gresham, Oregon location features about 17,000 sq. ft. of production space, and as part of the Crash Champions' growing national network, will provide customers with a lifetime warranty on all repairs, valid at any of its locations.
"I first became a partner at this shop 30 years ago and have served as sole owner for the last 16 years. Born and raised in the local area I have enjoyed being active and serving Gresham and the local communities," said shop owner and operator Shon Kim. "It has been an incredible experience doing what I love, but now is the right time, and Crash Champions is the right partner, to start the next chapter. It is clear to me that Matt and his team are building something special, and I am thrilled that we get to be a part of it."
For more information about Crash Champions, visit crashchampions.com and watch the company's story here.
Collision repair companies interested in selling their business are encouraged to visit crashchampions.com/sell-your-shop to learn more.
###
About Crash Champions
Crash Champions is a leading independent collision repair company operating ~570 state-of-the-art centers across 35 states and Washington, D.C. Founded in 1999 as a single shop outside Chicago by industry veteran and entrepreneur Matt Ebert, today Crash Champions is one of the fastest-growing and largest founder-led and operated collision repair MSOs in America. For more information, visit www.crashchampions.com.
Back to All News